How to Play Live Blackjack Online?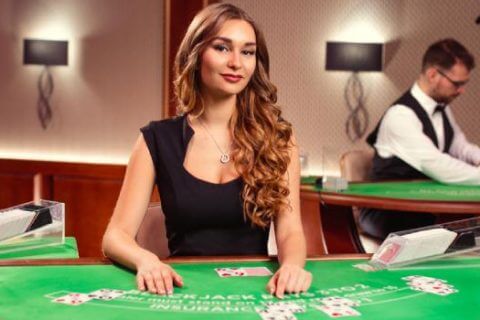 It is hard to resist the seductive call of live casino games. After all, what is not to love? They bring a dash of glitz and glamour straight to your living room (or bus, the beach, or wherever you are), and provide a 100% real and authentic gaming experience that can be compared to visiting lavish land-based venues. And one of the most popular and beloved games is definitely blackjack – a true casino staple that has been captivating the imagination of both beginners and professionals for centuries.
However, playing blackjack at a live casino is slightly different than playing it at a brick-and-mortar venue or playing an RNG blackjack game. Luckily, this article will help you understand how it's done.
Setting Up Your Live Casino Account
Unlike slots, the live casino doesn't offer a free demo mode, so that you will need a real playing account immediately. You can research by yourself or sign up with a reliable casino brand from our list. There are two great things (amongst other advantages) that make live gaming at online casinos so fun:
One account is all you need for the entire operator's portfolio.
Online live casinos have no additional costs attached to them. The deposit stays the same regardless of what game you play.
A variety of live blackjack is just out of this world. Unlike standard casino venues that have to fit the table, a few chairs, and even a protective plexiglass screen, live blackjack tables take far less space. Hence, suppliers manage to fit more variants in a single studio.
After you have made a successful deposit, all that is left to do is choose a table and have a seat.
Choosing the right Live Blackjack Variant
Live casino is usually organized in lobbies or lists all games of a certain kind in its dedicated category. The main difference is that operators who use lobbies simply organize titles in the cloud rather than on the website itself, making it slightly more efficient.
Anyone who has ever visited a live casino knows one thing: no matter how the games are organized, blackjack is often featured in 20, 40, and sometimes more than 60 variants! And how do you choose the one that will work for you? Let's first get familiar with some basic types.
Blackjack – sometimes, the most basic type of the game is marked with letters of the alphabet. Usually, there is no difference between Blackjack A and Blackjack D, as these markings only serve organizational purposes.
Prive and VIP tables are first-class blackjack games, and they cost as much as a first-class plane ticket. Such tables support a more private atmosphere, with a limited number of seats and high stakes.
Speed Blackjack – similar to classic Blackjack, but played at a much faster pace.
Infinity Blackjack – is played with an unlimited number of seats and an unlimited number of players. Usually features very low stakes.
Free Bet Blackjack – a live casino game that allows you additional bets for even more fun.
Before you choose your game, make sure to check out the rules, as well as the minimum stake, to be sure it fits your budget.
How To Play Live Casino Blackjack?
Now it's about time we tackle the process of playing blackjack at a live casino. To make things as simple as possible, we created a short list that will help you.
Find the game that speaks to you.
Join the table by clicking the image.
Once at the table, the interface will signal you to take your seat. Sometimes you can choose between all of them, and sometimes you will have to take the only available place left.
In most cases, the platform will show you a timer, counting down seconds until the next round is played. The dealer will also announce that the game is about to start.
In this period, you have to put your initial stake into the game. This step is done by clicking tokens of a certain value.
The dealer will deal two cards to all players at the table, according to the rules.
Then, choose if you want to hit, stand, or place any other type of bet, depending on what the blackjack variant allows.
The dealer will proceed with the game.
Once finished, both the dealer and the interface will inform you about the final result.
Soon, the timer will start ticking again, and the new round will start!
As you can see, playing live blackjack online is very similar to playing it at a real casino. In fact, if it wasn't for registration, we could even say that it is the same! Live blackjack is tremendously popular for a good reason. Considering that you can play it for as little as €1 per hand, it makes it incredibly affordable and suitable for everyone.