Blackjack Pro - Play Online Blackjack
Blackjack Pro Review & Experience
Blackjack Pro is one of NetEnt gaming's' powerful games with a variation to the standard blackjack games. This time around the games is played with a three-hand variation using a double Jack side bet and incredible graphics. A player has the choice to play one, two or three hands and here too the aim is beating the dealer. This widely acclaimed NetEnt game allows players to experience the excitement and thrill of the real deal. You can play blackjack for real cash or in demo version here or at any of the CasinoHex's casinos like casinos using PayPal.
Blackjack pro is an improved or advanced version of the classic blackjack game. The sound and graphics are definitely a great improvement as well. Another difference is the three hands that you can play at the same time.
The big difference, however, is the Double Jack side bet. In order to place a bet on it, you decide what coin amount you would like to bet on it. You will place the coin denomination on the top of the box. The minimum side bet you can place is $1 and the maximum is $500. The aim here is to get one of the first two cards that are dealt as Jacks. If you do not get Jacks, you will lose the bet. The difference is when you do get Jack you will be able to win up to 100 times your wager.
If the first card is a Jack, your bet is multiplied by ten
Any two jacks will give you 25 x your bet
If both the two Jacks are Spades your bet will be multiplied by 100
The game looks excellent and a single push of a button allow players to deal cards. The aim of the game is to get as close to 21 and beat the dealer. Going beyond 21 will be a loss as it will be a busted hand. Much like the land-based casino will you see a table and multi-colored chips.
The game has the standard settings to adjust your game speed and sound as well as background music which some players find distracting. The blackjack winning hands are 3:2 for a Blackjack Pro, 2:1 with insurance pays as 1:1 for other winning combinations. When you choose your chips and press deal, you have a choice to play one or three hands simultaneously. You need to get a blackjack to be the ultimate winner which is a colored face card and an Ace. This gives you the highest payout as you also get a natural blackjack which you get with a number of cards to total 21. If you get a natural 21 and the dealer does too, it is a Push where you neither win nor lose.
The dealer must stand at 17 while you can choose to draw another card in the wish that it is small enough not to bust. When you want to split your cards, you need two cards of the same denomination, when you split your cards though, you are effectively also doubling your bet. You can double down your bet too. This is when you see you have two good cards that could result in a good hand and you want to increase your profit. When you choose to double down you can only draw one additional card. If you did a split with your cards you cannot double down after that.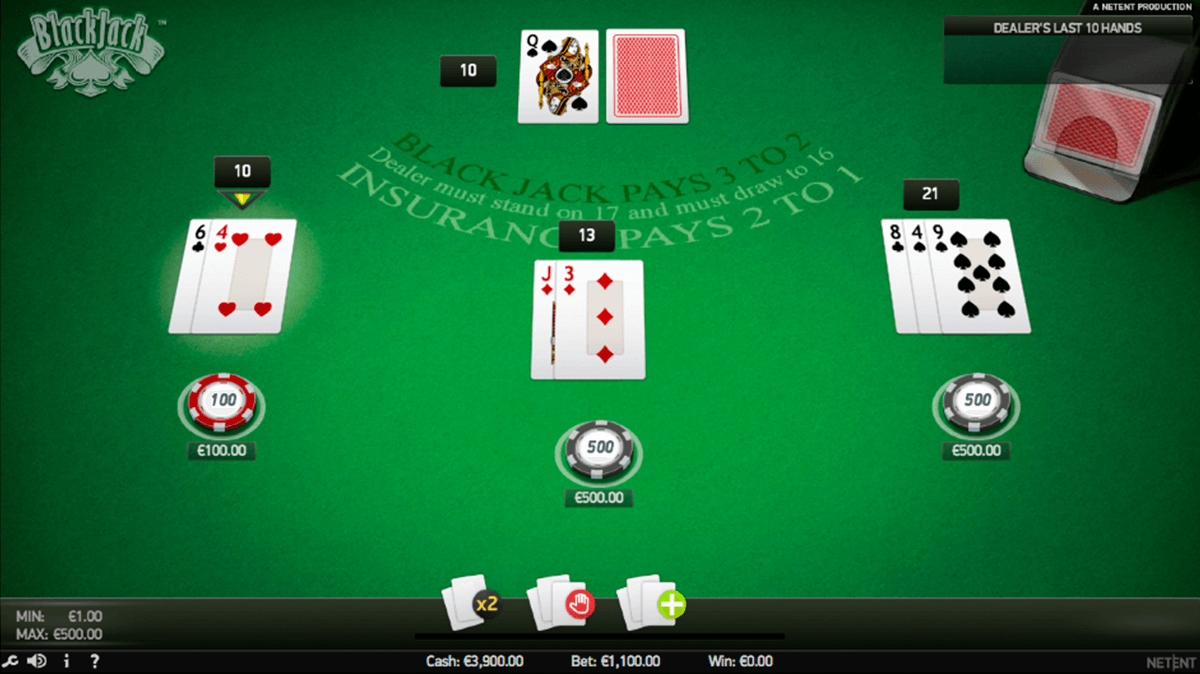 Play Blackjack Pro in Casino for Real Money
Advertising Disclaimer
CasinoHEX is an independent website designed to provide reviews of leading casino brands. We participate in affiliate programs and by featuring information on brands and directing users to the brands' websites are rewarded by affiliate programs. Thus, if a User ultimately decides to click on the brand to read about it, go to the brand's website or make a deposit with this brand, we may receive a commission. Users are not charged by CasinoHEX. Commissions that we receive for marketing brands do not affect the gaming experience of a User.
Most played NetEnt Online Blackjack