European Blackjack - Play Online Blackjack
European Blackjack Review & Experience
If you are looking at stepping up your blackjack game and interested in a more challenging version of blackjack, then you will appreciate Microgaming's European blackjack you can play European blackjack for free here on Casino Hex to test your skills before advancing to one of our listed casinos and play blackjack for real money.
European Blackjack Rules
You can place insurance bet
Blackjack pays 3:2
You cannot split unlike ten value cards
You can split only once on your first turn
You can only double on card values nine, ten and eleven
You cannot peek at the card
The dealer always stands on 17, both hard and soft
You cannot surrender
Dealer plays with two decks of cards
Traditional winning ratio is 1:1
Insurance pays the player 2:1
European Blackjack Player Interface and Features
Microgaming develops as always fantastic graphics and sound effects. The background sound reminds you that you are possibly inside a real casino. The graphics are realistic and what is more, you can play this game on the go via your mobile too.
How to Play European Blackjack
European Blackjack is also played against a dealer. This game uses six decks of cards, but you can also get some online casinos that uses four or eight decks as well. Moreover, some variants only use two decks of cards.
The difference however the dealer will take his whole hand after he dealt a player's cards. It works on the same fundamentals as other Blackjack games to beat the dealer or get as close as possible to 21 or instead get 21 which is blackjack.
If you are unfamiliar with the game, blackjack is when you have a 10 or picture card and an Ace. As soon as you have those two cards you are automatically a winner.
A face card counts as ten, while a 10 card obviously also counts as 10. An Ace is either a one or an eleven. All the other number cards are their numerical value that is shown on the card.
Fundamentally across all variants of Blackjack the rules and strategies remain the same, with a few differences. As shown in the Blackjack rules at the top.
When you choose your favourite casino from Casino Hex listing casinos with European Blackjack from Microgaming or among the best PayPal casinos, you will have various options. On the machine you have various buttons; Double, Split, Stand and Hit.
The game will load as soon as you deposited your money or when you want to test it first select to play in free mode. You will click on the chip amount first to select the amount you are going to gamble. The cards will be dealt, and you decide if you stand, hit, double or split.
You might be lucky and be dealt a blackjack and then you automatically win. If you want to increase your cards, you will press hit. If you decide to split, in European blackjack you can split your cards three times, but only certain pairs can be split.
You only hit double when the dealer has a bad hand and you think you stand a good chance to beat him. In European blackjack you can take insurance too, which you can do when the dealer has an ace showing in his hand.
If you take insurance and the dealer does get a 10 card with his ace, you will not lose your bet, but get a pay-out of 2:1
European Blackjack Pay-out Table
Blackjack – 3:2
Black that is formed after a split – 1:1
Hand of 21 – 1:1
All other winning hands -1:1
Insurance bet – 2:1
European Blackjack Min and Max Bet
In European blackjack from Microgaming the minimum bet is 1 credit and up to 1, 000.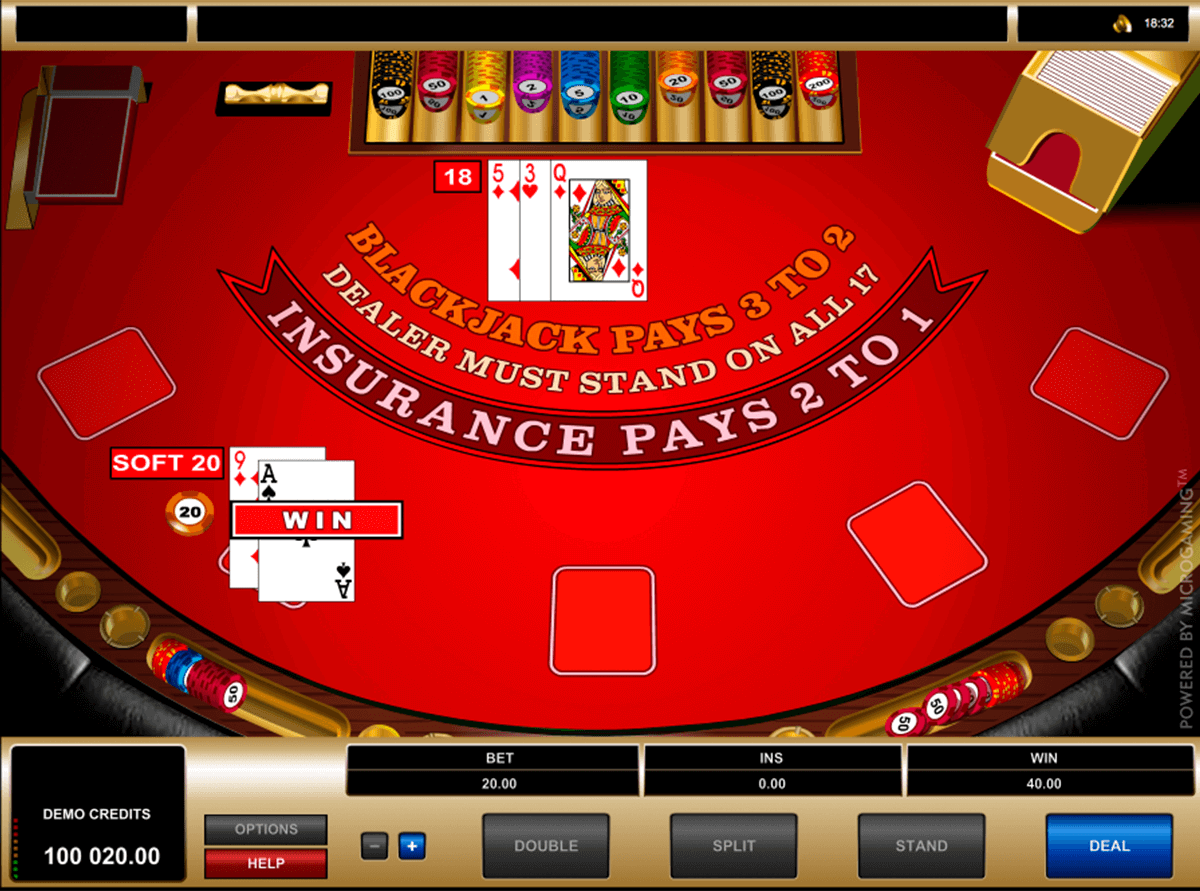 Play European Blackjack in Casino for Real Money